Montana Family ASL is a language learning program for families in Montana. If you have a deaf or hard-of-hearing child ages 0-8, you are eligible to receive this service free of charge!
Sign up today to receive a box of toys and activities that will support your family in learning and using American Sign Language. Upon registering, you will also receive an invitation to weekly Zoom meetings for parents which will include demonstrations, support, and connections to other families.
MT Family ASL offers two programs:
Cultivate Language Program for families with very young children (ages 0-4),
Cultivate Literacy Program for families with kids in the kindergarten range (ages 4-8).
   Program participation is on a first-come, first-served basis. A pilot program will run in February and March. Additional families will be able to join beginning in April. The registration form includes questions about your family's schedule and start dates; please fill it out now so that we can make sure the program is accessible to as many families as possible.
Want more info about Montana Family ASL?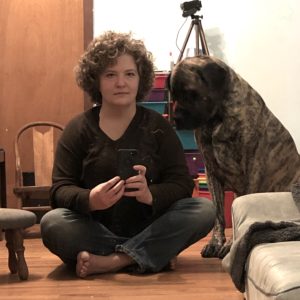 Montana Family ASL is a collaboration between Conservatory ASL Northwest and Dr. Cecily Whitworth. Dr. Whitworth is a deaf Montanan who has a Ph.D in Linguistics and 15 years of experience working with ASL learners of all ages. She is based in Missoula, where she lives with her enormous dog, Big.
To make this program accessible to all families, there is no charge for participation. You can give the gift of language to more families with your tax-deductible donations!
Donate to the program HERE, or purchase supplies directly from our Amazon wish lists:
Toys & activities for the 0-4 program
Toys & activities for the K (4-8) program
General background support & supplies
Montana Family ASL is a program of Conservatory ASL Northwest (C.A.N.).
C.A.N. is a 501(c)(3) nonprofit organization dedicated to facilitating knowledge sharing and social interactions in American Sign Language in the American Northwest. C.A.N.'s federal ID number for donations is 83-3489128.
Thank you so much for your support! Together we CAN!